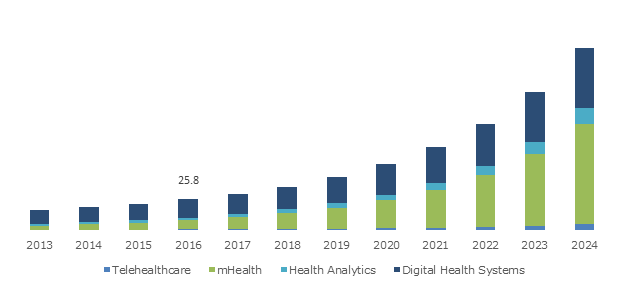 Digital health market is expected to reach $379B, representing to register a CAGR (compound annual growth rate) of 26% over 2017-2024, according to a recent Global Market Insights report. The recent decades have witnessed an augmented development in terms of technology – a trend that has propelled digital health market to traverse a path of exponential growth.
In the present healthcare industry scenario, a patient can schedule an appointment with the doctor, seek medical advice, view medical records, and fill a prescription without ever having to step outside the house. From robotics going ahead to transform surgical procedures and 3D printers printing human organs, the healthcare industry has come a long way, paving the path for digital health market expansion
With developed countries boasting of extensive technology adoption and the emerging economies looking forward to extending medical services to the remote rural regions, the digital health industry is poised to become one of the most progressive healthcare verticals in the years ahead.
As per estimates, digital health startups the world over raised $11.5 billion in 2017, topping the 2016 record of $8 billion, further validating the fact that digital health industry will enter a more mature phase between 2017 and 2024. With early stage deal activities having fueled a startup wave that will attract later stage opportunities and new investments on a global basis, digital health industry trends are all set to transform in the ensuing years. Indeed, the forthcoming six years are anticipated to be a dynamic time period for mergers and acquisitions, funding activities and experimentation paving way for greater advancements in digital health market.
Remote medication and patient behavior observation has for long been a key part of digital health market. In fact, a new sector of this vertical that has registered a profitable traction is digital therapeutics or digiceuticals. An instance of a prominent digital therapeutics company is HealthBeacon that is aiming to bring its funding to a total of €8 million with a goal to launch into 11 markets in 2018. HealthBeacon uses its app to treat diseases by modifying patient behavior and providing remote monitoring to improve long-term health outcomes.
Digital therapeutics thus differs from basic wellness apps by being tailor-made to cater to specific chronic ailments like rheumatoid arthritis or cancer. Though not entirely curable, the severity of such diseases can be controlled and limited by modifying the manner in which patients afflicted with such illnesses conduct their lifestyle. A major difference can be achieved in health outcomes when the expertise of such digital health platforms is combined with human interaction and coaching. As more and more companies continue to invest in this space, digital therapeutics will emerge as a prominent vertical of digital health market.
With the geriatric population rising across the globe, the healthcare system will witness a paradigm shift with patients wanting to avail more health services from their homes and outside the hospital and clinical settings. In this regard, it would be imperative to mention that advent of smartphones has brought about a profound upheaval in digital health industry, as it is being used to make the patients the custodians of their own health.
Regulatory bodies like the Food and Drug Administration (FDA) has approved 36 health devices and apps that range from mobile lung-function monitors to blood-sugar tests. According to experts at the NHS, in the coming years healthcare will witness a tectonic shift as the digital devices used to access medical information would soon come to replace human specialists and will also be recognized by authoritative bodies controlling healthcare quality.
Digital health is paving the path for individual data to be collected, stored, integrated and analyzed by sophisticated and accurate algorithms in the cloud, enabling doctors to identify trends that can not only treat diseases but predict and prevent them. Driven by the mammoth growth prospects that digital health industry is characterized by, medical care stakeholders are putting in massive efforts to advance the expansion of this business space. With the pervasive presence of wearable devices, cell phones, smartphone sensors, data analytics and cloud storage in today's digitally advanced technological ecosystem, digital health market has more opportunities of growth than ever before.